Gifted One
Staff member
S MOD
FELLOW
VIP
PATRON
POSTER
PUBLIC
TENURE
Joined

Apr 16, 2021
Messages

1,331
Points

530
Location
It's unlikely that Russian President Vladimir Putin will be handcuffed any time soon after the International Criminal Court issued an arrest warrant for him, but former U.S. officials and war crimes prosecutors said the former KGB agent's world shrank significantly after the announcement.
The court's accusation on Friday, that he oversaw the war crime of the unlawful abduction and deportation of children
from Ukraine to Russia, locks in his status as an international pariah and will severely limit his ability to travel outside Russia, the experts said.
"The result of this is he's not going to travel any place he thinks he might get arrested," said Todd Buchwald, who served as special coordinator for the State Department's Office of Global Criminal Justice in the Obama and Trump administrations.
Although the ICC has no police force of its own, the warrant "cordons off" the 123 countries that signed on to the statute that created the court, because Putin runs the risk of arrest if he travels to any of them, said Buchwald, now a professorial lecturer in law at George Washington University's Law School.
Under the statute, those countries are obliged to carry out arrest warrants, no matter the rank of the accused. But most governments also abide by an international legal principle that heads of state have legal immunity from other courts.
And it is unclear how many governments would be ready to follow through and arrest the president of a nuclear-armed, oil-rich power with a history of exacting revenge and carrying out assassinations.
Putin's press secretary Dmitry Peskov rejected the court's findings. "We do not recognize this court, we do not recognize the jurisdiction of this court. This is how we treat this," he said in a Telegram post Friday.
But Putin will have to take into the account the danger of being arrested and flown to The Hague in the Netherlands, where the court is based.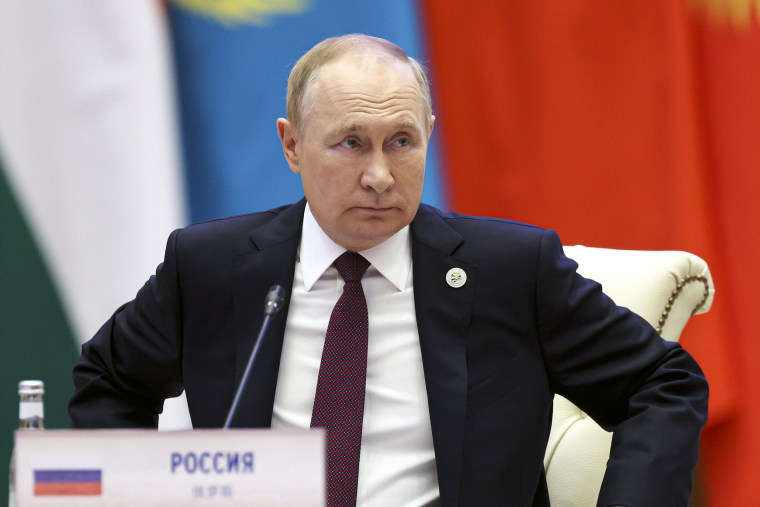 Russian President Vladimir Putin.Sergei Bobylev / Kremlin Pool / Sputnik via AP file)
The warrant also "puts pressure on any future Russian government," said Wayne Jordash, a British lawyer who is leading teams of local and international prosecutors and investigators in Ukraine. "If they want to normalize relationships with the international community, then there's one easy way of doing that: Turn him over for trial," he said.
There is precedent for a country turning over its leader to the court for war crimes.
The arrest warrant issued in 1999 for the then-sitting president of Serbia, Slobodan Milosevic, by the United Nations Yugoslav Tribunal for war crimes committed in Bosnia "became the vehicle used to remove him from Serbia," said Dermot Groome, who led the investigation and prosecution of Milosevic at the International Criminal Tribunal for the former Yugoslavia.
"As more and more Serb citizens and members of the army grew tired of his iron grip on power and his squandering the lives of young Serb men in neighboring Croatia, Bosnia and Kosovo, his support crumbled, and in June 2001, he was arrested by Serb authorities and removed to The Hague on that arrest warrant where he was tried for international crimes," said Groome, now a professor at Penn State Dickinson Law.
Milosevic died before the trial could be concluded, and the ICC's limitations are well known. Omar Hassan al-Bashir, the former president of Sudan, has been indicted but has never been arrested in countries where he has traveled.
But the court has convicted 10 people including Thomas Lubanga, who was found guilty of war crimes in 2012, for using child soldiers in the Democratic Republic of Congo .
And there is hope the warrant for Putin could decrease excessive violence and brutality in Ukraine, where Russia has also paid a heavy price since the February 2022 invasion, with some estimating that the country lost around 200,000 soldiers in the first year of the war.
The move puts Russia on notice that international prosecutors are closely tracking the regime's actions on the battlefield and could cause some Russian officials to think twice before carrying out orders that may put them in legal jeopardy, experts said.
It "puts pressure" on the people around Putin "to distance themselves from him," Buchwald said.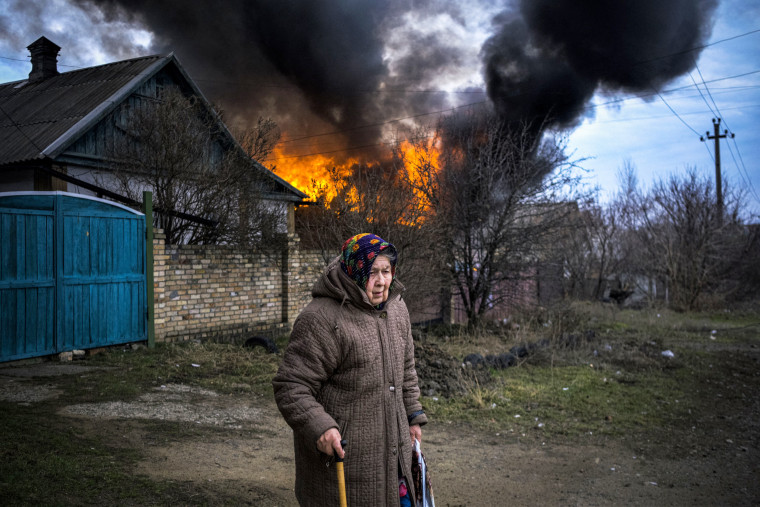 An elderly woman stands near a burning building following shelling in Kostyantynivka, Ukraine, on WednesdaySergey Shestak / AFP via Getty Images
However, Ian Brzezinski, resident senior fellow at the Atlantic Council think tank and a former senior Defense Department official, said he was not "hopeful that they're going to haul Putin" before the court unless there is a tectonic shift in Russian values.
"That's going to require a fundamental change in Russian politics, and that doesn't seem to be in the making in the near term," he said.
Despite the losses and economic sanctions that Russia faces, opposition to the war has not materialized at a large scale within the country or fomented a powerful opposition to Putin or his regime.
But Brzezinski said the court's move helped buttress Western calls to support the Ukrainian war effort and help Kyiv secure a decisive victory, sharpening "the moral argument behind that cause" and serving as a "powerful reminder of the brutalities that the Ukrainians have been subjected to."
To those who question the value of indicting a leader who may never face his day in court, Buchwald said there is always a chance that circumstances change, citing Milosevic as an example.
"Nobody ever thought they'd get their hands on Milosevic," he said, adding, "It's a statement of the resolve of the international community, and a reaffirmation of the importance of justice. ... It's an important event, even if they never touch Putin."
https://www.nbcnews.com/news/world/vladimir-putin-war-crimes-arrest-warrant-international-criminal-court-rcna75526
Whether Putin ever gets arrested or goes to court or not, this is still a very bad look for him!
Last edited by a moderator: